Section clearing is one of our specialties – making short work of unsightly overgrown or junk littered sections or construction sites, and disposing of the waste for you.
We can remove and dispose of all kinds of rubbish – no job is too big or small. Garden waste, household junk, construction waste, even some hazardous materials (call us to enquire).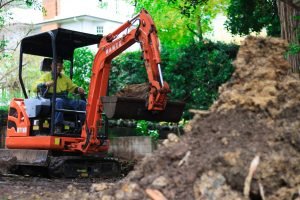 If you have large amounts of earth to be removed, relocated, or excavated, we have an experienced, expertly trained crew and the right machinery for your job.
Not just earth movers – we can also provide a demolition service to remove sheds, walls, fences, paths, driveways – you name it!
Our experienced landscaping team can do any garden levelling, filling or shaping for you. We also specialize in terrace and retaining wall preparation.
We transport and lay fill, topsoil, gravel, sand, bark, mulch, woodchips, shells, pebbles, delivered to your property and installed exactly where you want it.